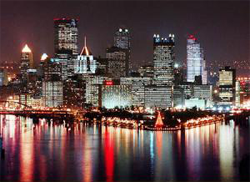 The Downtown Business Connection meets weekly for breakfast and host several exciting social events throughout the year.
We are a referral group whose members are dedicated to supporting each other through the generation of qualified business leads.
DBC is unique as the oldest referral generation organization in Pittsburgh!  We have met continuously since 1990. As an independent group, we retain direct control over the structure & management of the organization, so we structure the group around the needs of our members.  We offer a positive, supportive, structured environment to learn about and from other professionals, so we are prepared to recognize the ideal client for each our members.
By building personal relationships our members really get to know each other and therefore are comfortable referring clients, friends and neighbors to DBC members we "know, like & trust."
DBC is Category Specific – Only one member per profession – our members don't complete against each other, but rather assist each other.  For example, we have one Attorney, one Financial Planner, one Life Insurance Agent, etc.  A Financial Planner's clients may need an attorney or a life insurance agent, so we can support each other!
You are invited to attend a meeting and introduce yourself.  You could be part of a dynamic (and eclectic) group of professionals committed to the success of not only our own business, but also the success of others in our organization. It's like adding sales people to generate business for your company!