The Downtown Business Connection is a referral group whose members are dedicated to supporting each other's bottom lines through the generation of business leads.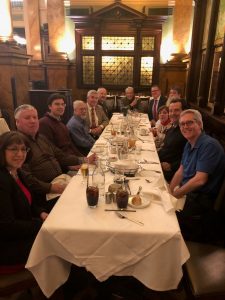 What makes the Downtown Business Connection unique is its status as an independent lead generation group. In fact, the Downtown Business Connection is the oldest referral generation organization in Pittsburgh, established in 1990. We meet at the Cardello Building on the Northside every week. Because we are an independent group, we retain direct control over the structure and management of the organization, which means we are free to structure the group around the needs of the membership.
DBC members have three responsibilities to the group:
Attend the meetings every week,
Support fellow members with leads, and
Bring guests whenever possible to grow the group.
If you are willing to assume these three responsibilities, you, too, can be a valued contributing member of the Downtown Business Connection!
The DBC is structured around business classifications, and each classification is represented by one member. As a result, members do not compete against each other for leads. We are all in it together, and you are the CEO of your business classification. Most, but not all, members come from small to medium-sized businesses, and our business classifications run the gamut, from retail to consumer, business, financial, and professional services.